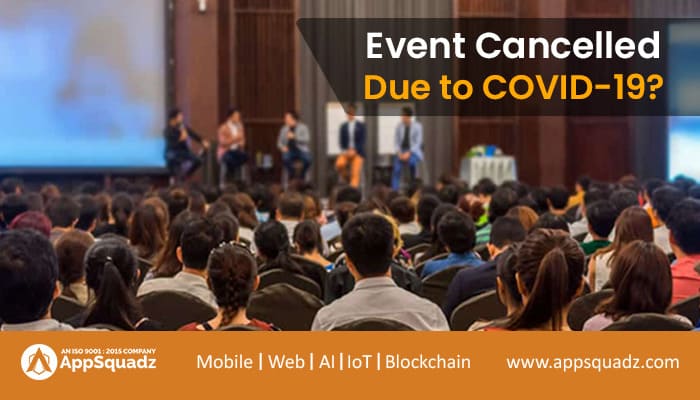 Virtual Event
We all are aware of this Coronavirus Pandemic and as the count of many special occasions, like weddings, events and more have been canceled due to this. The growing segment of this COVID19 crisis has made the organizations be challenged and react quickly thus ensuring the warmest of businesses. If you were planning to attend or to organize any event in the coming days, but due to this COVID-19 crisis, it has been canceled then, there is a chance that they have already been called off. The technological industries are still challenging and luckily there is a silver lining which companies can consider with regards to the canceled events that they might have planned.
We all know, there are lots of best event mobile app development companies that provide an event mobile app to its customers for their business outreach. This can help them to stay aligned and plan for their events accordingly and can make the events or seminars a most profitable. We, people, have already seen that there is massive interest from businesses who are planning to move their seminars & conferences, career fair or any exhibition to an online setting thus keep engaged with the audience and stakeholders and mitigate not to lose their hope and their thought about a particular session. A virtual event is just like an online destination which helps the audience to connect with you or vice versa all around the glove on several different topics/niche.
Steps on how online event can replace the physical one
Are you still thinking of organizing an event physically or traditionally? Then, I think this is the time when you should go with the online events rather than the physical one. Doing this, it will help you to connect with more audience and more people. You can engage with more people rather than going for a traditional one. This is because, in today's economic market, social media is playing a huge role and everyone is using social media and is active on the social platform more than traditional-looking or going for the events. Hence, this is one of the major reasons you should opt for online events than physical/traditional ones.
Below are listed some of the reasons why online event can be replaced by physical one or the traditional ones:
1. Cost-Effective
When it comes to monetary investment, physical events can be more extensive and useful. But for a traditional event, it might cost you more than the online one in many terms such as booking a venue with appropriate capacity, providing hospitality to the visitors, acquiring marketing collateral, setting up booth, travel and accommodation cost, key speakers and guest, parking and valet facility, food and snacks and more. On the other hand, the online event just allows the organizers to spend a fraction of cost in physical space and it will also create marketing and awareness directions and keep up a note on behind the scenes. For this you can also go with any event app development company who can better assist you in this.
2. Reach Global Audience
Due to its online nature, the online events allow you to reach a set of a global audience through event mobile app development and can help you to maximize the visibility of your event thus by extending you to reach to the entire world. This might help you to understand the vocals and the issues of people what they need from your end to cover in the events, what topics should be covered and more. In comparison to traditional events, they have a limited capacity of the local audience which you can cover in thousands or sometimes maybe in lakhs, but not the entire world. Through online events, this can be made easily and quickly possible in many ways.
3. Measures Success
You might be having an object before you went into an event organization. Before setting up an event, you have some sort of preparation in your mind that can help you to connect with audiences in many ways. But, do you have any idea how can you achieve that or would you able to achieve it or not? At online event, measuring the success of your events through android event app development is very easy because it defines the nature of your event as you can track the attendance and engagement metrics in real-time.
4. Eco-Friendly Environment
This is true that online events are eco-friendly than traditional ones. This is because the place gets dirty when people come together. In the case of a physical event where the timing of climate can be tough to estimate and paper waste, carbon footprints and more will happen in this. But, if it's online, where there is no paper waste no carbon prints or any other handmade documents are required. You can just simply be at your place and can enjoy the event from your home or office or anywhere else. This will lead to environment friendly and not just creating a bad impact on global warming.
5. Familiar Tools
One of the major reasons why professional attends conferences or seminars or events just to make good networks. The online events or even traditional events can help you to create good networks from the pocket. The modern professionals use Skype or WhatsApp groups to engage with the audience more and create an engaging network through event mobile app also but in traditional events, you might not have this opportunity to play on. Hence, you should go with the online events that enable you to create networking with people with some of the familiar tools for a long period.
Conclusion
While it is very unfortunate to experience this pandemic this has occurred and has disturbed a lot in terms of business. It is very important to go for precautionary measures to stay away from being affected by this coronavirus pandemic which has already created its space in the world. Hence, you can also keep you and your business up to the mark by using these steps and can arrange an online event for your business to engage with people and audiences more in this crisis also.