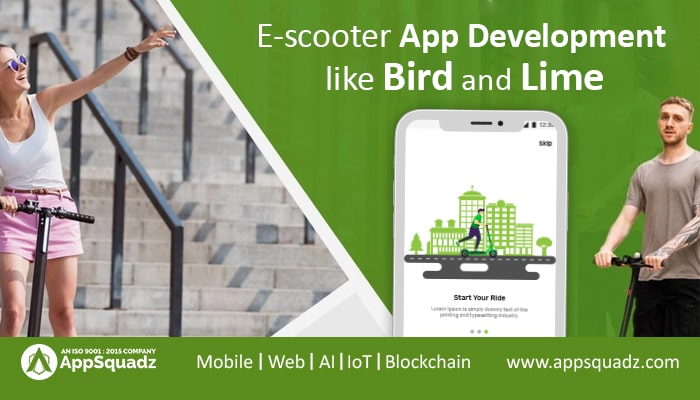 E-scooter App Development
E-scooters are in the news since they were launched and gaining a lot of popularity. The purpose behind the adoption of these e-scooters is to pave the way to go green (facilitating green transportation). Applications like Lime and Bird already exist in the market. Since these e-scooter applications are getting a massive response among the users, various companies are now launching new e-scooter app development solutions.
What is an Electric Scooter App?
Electric scooter app is an on-demand mobile app which allows users to hire an e-scooter. Just like Uber and Ola app, you can use e-scooter apps for booking your ride with an electric scooter that will furnish you with superior riding experience. The idea behind launching the e-scooter in India is booming as these e-scooters can single-handedly eliminate the cost of cabs, parking issues, maintenance and much more.
Here's are the reasons why there are too much demand and adoption of e-scooters
Cost-Effective
E-scooters employ a rechargeable battery and run on power; therefore, you need not spend on expensive fuels and gas, making them quite affordable.
Highly sustainable
Since they don't use fuels, they don't contribute to pollution. E-scooters are eco-friendly, so their adoption has grown to a much extent, and they are not going to harm the environment anyway.
Easily accessible
All of us get access to quickly and readily book an e-scooter from anywhere and everywhere. You need not bother about traffic, road congestions, and more before taking your ride.
Maintenance-free
You don't have to spend a lot in the name of maintenance cost in e-scooters. In the case of e-scooters, you only need to charge up the batteries of the e-scooters and keep them clean as they run on batteries.
Easily park-able
Parking a vehicle is a big challenge for those who travel with their cars. But with e-scooters, you won't face such a problem as you can park them in the smallest places as they are quite compact.
After the benefits, now it's the time to discuss the features which an e-scooter must-have.
Essential features that every e-scooter app must have
Onboarding
So that the users can start to utilize the app, make the sign-up process simple. You may also attach an interactive tutorial to show the rider how to use application. Your onboarding tutorial may also include the tips for safe riding.
Google Maps integration
This feature facilitates users to locate nearby e-scooters. Android application developers usually integrate the Google Maps API, and iOS developers use MapKit framework. With this feature, riders can readily find out the nearby e-scooters.
Real-time GPS tracking
This feature will help you track the routes and get directions when riding. For Android apps, Google's Location APIs enable GPS functionality, and Core Location framework is generally preferred for iOS apps.
QR code scanner
The applications like Lime and Bird use built-in scanners to decode QR codes on a scooter's handlebars for locking and unlocking e-scooters. This feature is a bit necessary for security purpose and for unlocking the scooter; a rider requires to scan the QR code on the handlebar from the e-scooter app.
Smart lock
Because of this feature, e-scooter will automatically unlock as soon as the user approaches it and lock when the rider is not around. Internet of Things technology enables keyless locking/unlocking of an e-scooter with a smart system-on-a-chip (SoC).
In-app payments
Integrate a payment gateway into your e-scooter application to accept cashless payments from your customers. This will not facilitate your users but also attract customers who opt for cashless payment. You can choose the Paytm, PayPal, and Google Pay.
Ride stats and booking
Permit your end-users to track their ride stats and history. Also, let your users plan their trips in advance by enabling a booking feature in your e-scooter app.
Social media integration
Users like sharing their ride experience with friends on social media, so you may add the feature of social media integration.
Push notifications
Inform your users about the special events, exclusive discounts and suggested routes with push notifications. This feature is provided through the Apple Push Notification Service for iOS devices and Google Cloud Messaging for Android apps.
Conclusion
If you want to launch your Lime-like e-scooter app, you need to think about-
The issues faced by the audience
solutions that can solve these issues, and
Safety features with the app and the transportation you offer.
If you have the answers to these questions, you may connect with an e-scooter app development company with your quote. Your reliable partner must be a company which offers quality and simple solutions to your complex requirements.