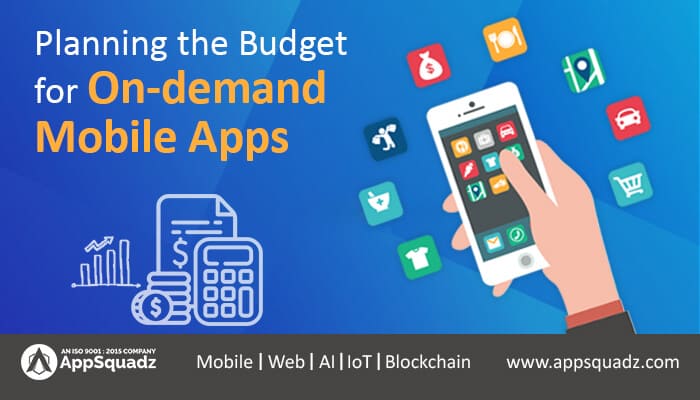 Planning the Budget for On-demand Mobile Apps
On-demand mobile apps are building a niche in the world, and have grown as a rising trend in the mobile application development market- this is not an overstatement. These types of mobile apps are in demand due to their convenience and availability features, conclusively meeting the requirements of the users. Today, most of the new businesses are looking forward to getting an on-demand mobile application developed. Post success of on-demand business apps like Airbnb, Uber, and Postmates, it is evident that these apps will skyrocket your business in terms of revenue generation and profits.
A study suggested, by the end of 2025, on-demand market revenue is estimated to touch $335 Billion.Moreover, with each passing day, the number of users of on-demand apps is rising exponentially in recent years because of its accessibility. So, with these stats in hand, it won't be wrong to say that on-demand businesses will be ruling the digital economy in the years to come.
The beauty of on-demand apps is that it allows performing tasks within seconds. With the advent of On-demand mobile apps, smartphones seem like a magical instrument and making life much more comfortable.
Why are On-demand business apps getting popular?
Applications that are exclusively built to meet the particular requirement of the users are referred to as on-demand apps. Basically, these apps emphasize on consumer demand and reshaping the living habit of urban elites by providing accessibility and convenience. From food deliveries to laundry pick-up, chauffeur-driven vehicles to plumbers, all activities can be materialized instantly within seconds. On-demand apps offer gratification, superior shopping experience, mobility, and quickest delivery, making it a more viable option for users. Numerous tasks consume time, efforts and energy if all such tasks can be accomplished through technology, why not to go for it and just hit the jackpot.
The Structure of a Typical On-demand Mobile App:
The structure includes three components:
User app
App for the customers who will be using the services. In the user app, a user has got the search option for products & services, reviews, map navigation, shopping cart, order history, pricing details, tracking orders, product recommendations, best sellers, alerts and other services. For the user app, the overall cost incurred for the development scales from $10,000 to $15,000 for iOS or Android.
Service provider app
It is for service providers which consist of profile, portfolios, active orders, product description, chat history, and offer an interface to clients. You may expect that the cost of development can be around $6,000 to $8,000.
Admin panel
It is a maintenance element which efficiently maintains users and services providers. It answers all the queries and abuse reports to offer a seamless experience to services providers as well as users. Also, it adds news feeds, track payments and user access. Development of this panel will require you $4,000 to $5,000 approximately.
Why Budgeting is necessary for On-demand Mobile Apps?
The cost incurred on an on-demand app depends on several factors and considerations. Budget planning may give a rough idea of the estimated cost that you will need for your on-demand application development. Not only a rough idea, but it also helps you prepare a blueprint of the development process. Budgeting is tricky; still, undoubtedly it will provide you with an insight into the project's technical and business feasibility.
By any chance, if you are planning to get an on-demand app developed, then you should strategize its development budget properly. Here we have specified some guidelines and the information for you that must be applied while planning the budget of your on-demand business app. These tips will help you make the best estimate of your budget to get started with your project within no time.
Factors that are to be considered while planning the budget of an on-demand mobile app:
Identification of your market domain
Before you get started, think once for which specific industry you are getting your app developed. It is to be done at an early stage as on-demand services include multiple sectors viz food industry, transportation, laundry services, and so on. As soon as you are done with the identification of the market domain, your budget planning becomes a little bit easier.
The platform for on-demand app development
Here, you will be deciding the platform for which you want your app to be developed if you wish for native platform or cross-platform app development. You may choose the one which best suits your requirements based on the concept of your on-demand app as both native and cross-platform have got certain limitations.
Prepare a product requirements document
It is a technical requirement document which is to be prepared while estimating the budget the app. This document covers the whole on-demand application development process, including the micro details. This document helps mobile app developers in determining the cost at each development phase like back-end development, testing, design, and other processes involved in the development process.
Outsourcing or In-house development
It is crucial to decide whether you are outsourcing the project or developing it in-house while preparing the budget for an on-demand application. This decision significantly impacts the overall cost of the project. In case you want to outsource, then you should find a mobile application development company with the quality of work, experience and expertise. Here, the cost of development is much higher contradictory to when you are developing in-house.
Conclusion
On-demand apps are in vogue and trending nowadays. All thanks to its usability and the accessibility it offers to its users. By understanding and applying the points mentioned above, you can get a detailed insight into the cost incurred in the development.
On-demand application development is quite a challenging task but at the same time retrieves maximum revenue. If you hire a mobile application development company for the development purpose, there is a low chance of suffering losses.