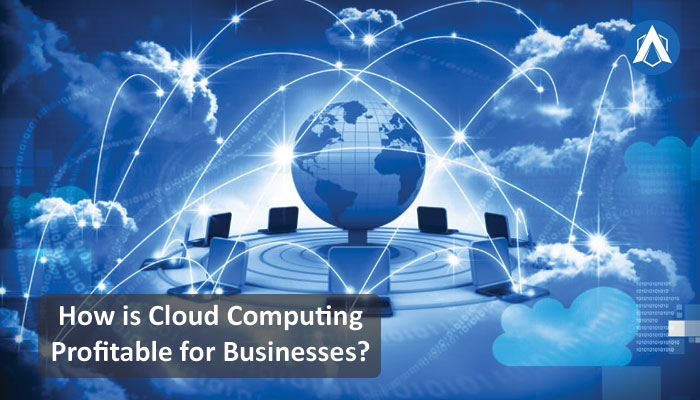 How is Cloud Computing Profitable for Businesses?
Cloud computing is a fast-moving beast that many organizations are adopting to enable their digital transformation, with new trends and technologies popping all the time among the business environment. As per the latest Gartner report, the cloud tech services market is estimated to increase 17.3% ($206billion) more in 2019, from $175.8billion in 2018 and by the end of 2022, about 90% of organizations will be using cloud-based services.
In today's digital world, a variety of organizations, ranging from nonprofits to government agencies to startups, have embraced Cloud technologies. Cloud services bring a momentous opportunity to accelerate business houses through their ability to be highly scalable, allowing us to be agile with our resources and providing new opportunities for collaboration to compete on a global scale and redefining the way you do business in the business environment.
Cloud computing enables a user to back up, storing and recovering the data. These significant features have been analyzed by all entrepreneurs, business owners, and start-ups as well, and they have already started using Cloud computing.
By what means cloud technology helps business:
Economical
Small business houses can avail of an advantage by shifting to the cloud for saving money. It provides small businesses and start-ups with scalable services at affordable and minimum costs. The companies can achieve more with lesser resources and funds. For small businesses, particularly, those savings are essential. It is beneficial because it has lower maintenance, installation, hardware & upgrade cost.
Enhanced Mobility
Enhanced mobility & flexibility in cloud technology can guide you to avail additional cost savings. Cloud can access data and related files from any location from any device at any time. Cloud computing helps employees to work outside the office premises as well as allows employers to manage their businesses whenever required.
Data Security
Another great aspect of cloud computing is improved data security, it is another asset of cloud computing. Traditionally, the data from the traditional data storage systems can be easily stolen or damaged. The threat of cyber-attacks like viruses, malware, and hacking was always there. But with Cloud computing, you will get an advantage of improved data security and reduced chance of data loss. In the Cloud, the data is protected using anti-virus, encryption methods, and many more.
Scalability/Extensible
This is an important feature of cloud-based services. Maybe in the current scenario, a small business requires limited data storage, mobility or more. Consequently, in the future, the needs and requirements will increase significantly with the growing business. Cloud-based services have the flexibility to scale up or to scale down as well as cloud-based solutions can accommodate all the increased requirements of the business organizations.
Effective Collaboration
Effective collaboration is possible through the cloud because it enables small businesses to track and oversee the workflow and progress in results. Nowadays, many Cloud collaborations tools are available in the market such as Basecamp, Google Drive, hive, etc. These tools help the users in creating, editing, saving and sharing documents for workplace collaboration.
Better Integration
Cloud-based solutions help in the creation of various intelligible opportunities with many cloud-based providers. Business houses can also avail of the benefits of specialized services to integrate with back-office operations such as Accounting, Marketing, and HR as well. This integration might play a significant role in making the business owners concentrated on the fundamental areas of the business.
Closure
As we have already discussed above, How Cloud Computing is profitable for business houses including start-ups and small-scale business. The requirement of Cloud Computing has grown extensively in today's business environment. Cloud Computing is a boon for businesses because it's scalable, mobile, economical, and highly integrated. It secures the data stored and related files for effective collaboration.
For more queries, you may contact us or drop a mail at [email protected]