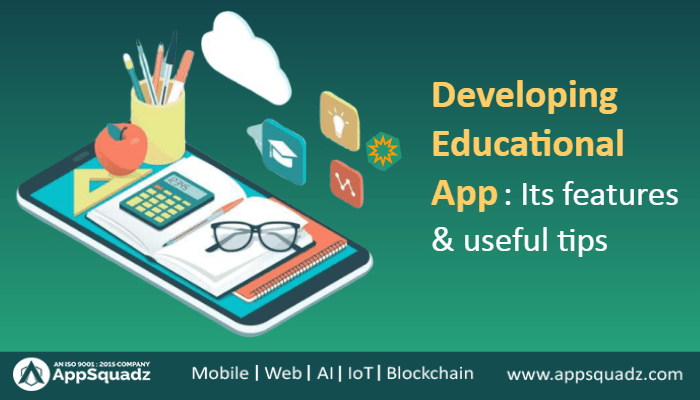 Educational App: Its Features and Useful Tips
The educational mobile app market size is growing at a brisk pace, and as per the report by Statistica, the revenue from m-education is forecasted to touch $37.8 Billion U.S. dollars by the end of 2020. Due to rapid growth and advancements in technology, it becomes mandatory for educational application developers to invent new ways of learning and facilitate the users in a better way. The patterns of learning & teaching are driving towards a personalized learning environment and virtual classroom, where the users can learn from anywhere at any time.
Educational application development lets you impart education and provide training, along with high-speed interaction among teachers & students. Distance learning has come into effect because of the advent of educational mobile app development as the students can access the study materials at any point as per their convenience.
Here, in this blog, we will explain the essential features that need to be present in an educational application along with some basic tips that educational app developers must follow during educational mobile app development to make it a successful one.
Educational App Features
Features of an educational mobile app depend either on the nature of the app you wish to develop or on the institutions & end-users. Here we have discussed a few fundamental components that an educational app development company must incorporate in their apps.
Push Notifications
A modern mobile app must have a push notification feature as it works as an unobtrusive approach to suggest about oneself and boost the user engagement factor. This way, you can notify the students about the latest information that your students must be aware of.
Feedback
Reviews can be positive or negative and at times, even aggressive. Reviews are a fabulous way to enhance your app as per the wants of your users.
Search System
Because of the presence of this feature, users can navigate within the app quickly and obtain the data required without futile attempts. The quicker the user receives the desired outcome; the more are the probabilities of using your educational application.
Social Network Integration
Social network integration is the most characteristic feature that all the apps (not only the educational or e-learning app development solutions) use. This feature turns out to be a massive timesaver as you don't have to enter your name and other personal info manually.
Planning and Scheduling
Education has persistently remained an organized procedure, and with the assistance of plans and objectives and last terms, it will be precious for the students just as for the instructors that battle to keep up and can plan their work appropriately.
Surveys and Test
It is always good to incorporate surveys and test features in the educational app as these features are beneficial for teachers as well as the students. Because of this feature, teachers can observe how all the information falls in, and the learners get the opportunity to examine themselves.
Cloud Integration
With the advent of Google Drive, Dropbox, Microsoft Office, and various cloud services, you and your pals both can keep the work in the same file. Cloud Integration feature is convenient when you are working in a group as the work of all members of the group can be kept in a single file.
Videos and Live Streams
Video content is simpler to digest when compared to theoretical. So, video and live streaming must be incorporated into educational apps so that the application becomes popular among the users.
Useful Tips that one must consider during educational app development
While developing educational apps, educational mobile app development companies must keep up with some tips in mind that will make the app handier for the users.
Applying Practical Teaching Methods
Education should be adequate, and in case you don't know the pedagogy, then you shouldn't confine on the expert's opinion also.
Gamification
It's time to put the education into practice, determining that learning apps should be executed as impressive games for the end-users.
User-friendly Interface
The UI must be simple, beautiful and bright for navigating. Moreover, when talking about kids, the integrity of the design is supreme.
Compatibility
You don't have any predefined idea on which platform the users prefer to use your app, hence compatibility matters (make it compatible with all possible platforms) for better results.
Sound Effects
Make sure the sound effects can be turned on/off to suit the demands of all the end-users.
Conclusion
Developing an educational app demands extensive business research before initiating the development. In this blog, we tried to make you aware of the essential features that an educational mobile app must possess, along with the useful tips for development. The demand for Educational apps or e-learning app development is at its peak, and if you have an idea to get an educational app developed, to get an edge and prominent position at the app stores you need a team of experienced professionals.