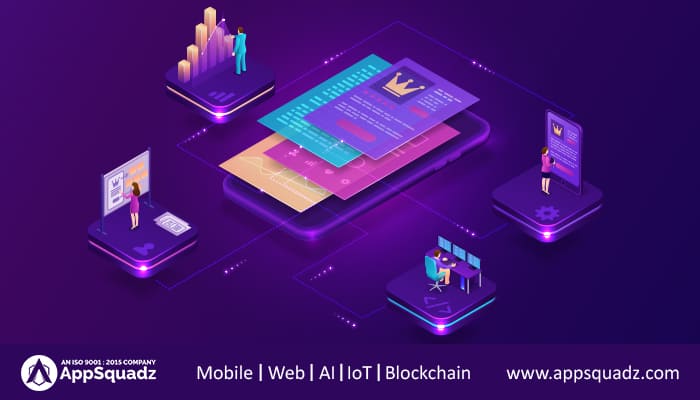 Best mobile app development companies of 2020
Online activities and technical support have assisted us well during the past few years. Looking at the condition as well the time is very complicated in such situations where the world is entering a technological world from old-style life. The usage of applications and software has raised in every niche. Similarly, the demand for mobile app development companies increased and now they are running at a peak.
Some selected applications like food delivery, online shopping, eLearning, Medicare, grocery, video calling, etc. are catching a hike. This rapid increase in demand for mobile app development services will see a 100% growth in the developing world in the next few years not more than 3. Even when the world will be technologically stable the demand for new software and updates will be trending in the future at a high pace.
1. AppSquadz Software
AppSquadz is a prominent web and mobile app development solution providing company, based in Noida India along with an appearance in major countries like the UK, USA, UAE, South Africa, KSA, Bangkok, and Latin America. Famous for world-class services in the development niche. The company provides IoT development solutions, AR/VR integrations, native and hybrid app development, web app development, Blockchain, cloud computing, cross-platform, and many more. The company has delivered 650+ applications in a versatile niche with 100% client satisfaction.
2. Hyperlink InfoSystem
It is the reputed mobile app development company of the country, has an appearance in the USA and UAE. The organizations offer app and web development solutions, IoT development, CRM solutions, AI solutions, blockchain, salesforce, and many more. The company has a team of 250+ developers highly professional and qualified in mobile app development for complexions. Since 2011, the organization has already worked with 2300+ clients worldwide.
3. Fueled
Fueled is a renowned company since 2007 that offers the best mobile app development services. The company offers ERP, CMS, CRM, CDP, POS, UI/UX design, app development, chatbots, blockchain, and many more. The company served major startup assistance to businesses around the globe, their clients are Verizon, 9Gag, CrunchBase, MGM resorts international, etc.
4. WillowTree Apps
It is one of the leading app development companies to provide digital products around the world. The company has a team with UI/UX designers, software engineers, and mobile strategists that have delivered digital solutions and 1000+ apps for their clients globally like, regal cinemas, national geographic, century fox, synchrony financial, and many more. The organization offers software development, chatbot development, web and Mobile App Development, UI/UX development, along with these also implying the latest technologies. 
5. Tata Consultancy Services
TCS is one of the eminent IT companies in India, serving the most reputed brands worldwide. It was established in 1968 operating at more than 149 locations in 46 countries. Every enterprise dreams of services from TCS. The company offers solutions like enterprise applications, blockchain, automation, and AI, the internet of things, mobile apps, cloud solutions, and many more.
6. Infosys
Infosys Limited is India based multinational Mobile Application Development Company that provides solutions like business consultations, outsourcing services, and information technology. Infosys is listed as the second-largest IT company after TCS in India. the organization has more than 123 development centers and 82 sales and marketing offices around the world.
7. Tech Mahindra
Tech Mahindra is an IT company subsidiary to the Mahindra group. The organization offers IT services in versatile industries. The company offers solutions like digital supply chain, cloud solutions, data science, enterprise business solutions, web and Mobile Application Development, and many more. The company has 125k employees and 900+ clients in more than 90 countries worldwide.
8. Zensar Technologies
Zensar Technologies is the leading software development company founded in 1991. The company has its centers in 20 countries around the world and 10k+ employees. The company offers services like data management, digital supply chain, cloud infrastructure, enterprise apps, AI and Automation, Data Science, and other latest technologies. The company was awarded for the innovation in "Creating an Impact-IT Skills" at India perspectives 2018.  
9. Accenture
Accenture is a fortune global 500 company that offers solutions like cloud, SAP, supply chain and operations, app development, oracle, blockchain, Salesforce, Software Engineering, etc. The company is serving clients from 200 cities in 120 countries has more than 492K employees.
10. Capgemini India Pvt ltd
Capgemini is one of the best multinational Mobile App Development companies trusted for providing technology, consulting, outsourcing, and professional services. The company has an appearance in 50 countries and more than 270k employees. The company has a team of experts in app development services, AI solutions, blockchain solutions, cloud services, and SAP served in almost every industry. 
Conclusion
The above-listed Mobile App Development Companies and their data have been observed from the reputed consulting websites like clutch and AppFutura, in addition to other B2B research platforms. entire research has a strategy including scales like client reviews, portfolio, market value, employee strength, and work experience. it will be the best services at a world-class level.