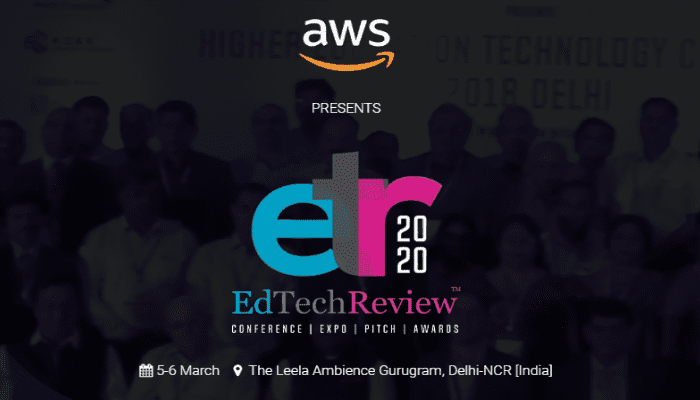 EdTechReview 2020
AppSquadz is one of the top app development companies on international levels. The company is rising with excellence in order to contribute to educational domains by live class services, educational content, software applications, and a wide range of educational Pendrive software for the online e-learning process.
EdTech review is a premier educational community, provides useful news, insights, researches, and product reviews to education stakeholders and learners. Edtech review is supporting educators and learners in the most possible ways about education technology. They are striving in technology to promote the educational experience of learners to endure incredible results in the future.
Highlights:
The event, named EdTech Review 2020 was a 2-day CONFERENCE | EXPO | PITCH | AWARDS at The Leela Ambience Gurgaon, Delhi-NCR (India) on 5-6 Mar 2020. The event was one of India's biggest gatherings in educational history with 1000+ EdTech stakeholders (EdTech founders, venture capitalists, foundations, education publishers, institution leaders, educators, investors & NPOs, etc.). Moreover, visitors, attendees, buyers & investors, 50+ exhibitors, 20+ partners, and international participation from 10+ countries. Likewise, the 2 days were full of keynotes, panel discussions, startup presentations, case study presentations from institutions, & awards.
Amazon Web Services (AWS), which is a subsidiary of Amazon, and the world's largest cloud computing and AI assistance services provider in the technological world. So, we are pleased to inform you that AppSquadz is a leading, certified consulting partner of AWS. AWS was one of the main focuses of the event. Therefore, they sponsored AppSquadz to support education indigents with technology.
A great speaker, as well as motivator, says:
"Technology cannot replace teachers but,
Technology in hands of teachers can be transformational"
AWS represented AppSquadz, there to form the future of the nation that is learners of the country. Above all, in this golden era of the digital world, where almost all things are processed by technology like payments, learning, processing, data handling, etc. Similarly, our collaboration has a motto to renovate the education system with technology. Because, we are emerging across the world as the top eLearning mobile app development company in the USA, India, UK, UAE, and throughout the globe.
Our educational products:
Audience Response System
Pen drive Classes Software
Smart Class Board
Interactive Flat Touch Panel Display
Encrypted Video Streaming
AWS Live Class
E-Learning Mobile App Development
Education Mobile App Development
Live Class Software Development
Key points radiating our cognitions:
India's largest platform delivering Educational Live classes or E-learning solutions.
Trusted partner of the top Educational content provider.
25 + premium partner in the Educational domain.
Serving 10M+ users across various Educational platforms.