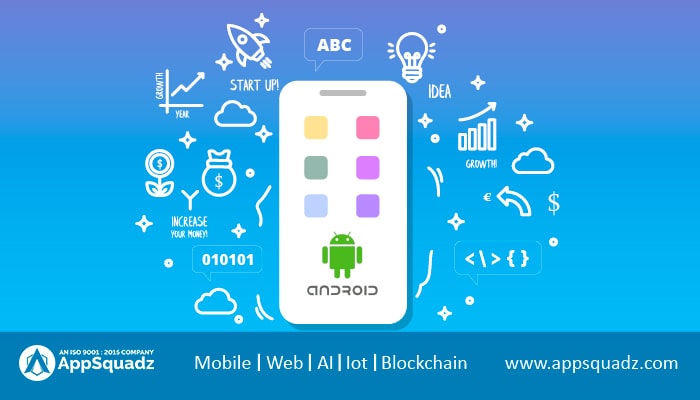 Android Application Development is Best Option for Businesses
The popularity of Mobile applications is indisputable as the entire world is now running places by swiping fingers over the screen of smartphones, especially when talking about Android applications. There is a vast scope for mobile apps as there is an increased penetration of smartphones in the market. In recent years, Businesses are shifting to mobile apps to expand their strategies to tap a higher customer base due to an unfathomable growth of mobile users across the world. Mobile apps have become a vital portion of the lives of people. They now use mobile apps for an abundance of purposes such as entertainment, shopping, daily planning, booking movie tickets, etc. Not only for these purposes, but also these apps modernize the work process of industries too.
For a business, it's essential to have an app, and Android applications remain at the top option among businesses as Android apps serve a variety of purposes. Also, Android app development offers enormous strategic and operational benefits to the enterprises and expected to surge even further in the coming years. Undoubtedly, the biggest community of people is using android apps. As mentioned above, mobile applications have completely transformed the scenario of the business processes. This blog aims to highlight why android app development is best for your business and how these apps help in accelerating your business growth.
Why should you look for android application development?
Android Operating System dominates the mobile app development market with over a share of 86.8%. Now in the epoch of intelligent work, as per the latest estimates, there are 3 million plus apps on Google Play Store, about 1 billion people use Google Play & download android applications at lightning speed. Also, these applications are generating revenue of $77 billion for their brands altogether. Due to the increased use of Android apps, there emerge vast opportunities for any Android Developers.
A business can merely hire android app developers to create an Android app with great features and functionalities, and you don't have to spend a lot of money to build up an app. Therefore despite the size of the business, businesses are leveraging android app development to foster their business and surge their revenues. Also, Android apps make it more comfortable for businesses to interact with the customers and reach out to a broader audience.
Let us start to make the query solved, explaining why Android applications are the best options for an enterprise/business:
More users
Due to an increased user base of Android apps, you get a great opportunity in the cutthroat competitive environment. You can easily create more visitors to your application and these visitors, in turn, will convert into your potential customers. If you want a successful business app, it should be apt as per the requirements of your target audience.
Target multiple platform
Android app development isn't really, only restricted to Android, and businesses can target multiple platforms with Android app development. Using Java as a programming language for android business app development makes it easy to port an app to other operating systems like Blackberry, Ubuntu, and Symbian, etc. This is one of the reasons why businesses choose Android development as you don't only target the Android audience, but your app can operate on multiple platforms.
Open source platform
With no surprise, most businesses and developers are opting to build Android apps. When you have nothing to lose, you have a lot to win. The best thing about using android app development is that Google doesn't charge a fee on the same. Not only it is free of cost, but it comprises a rich repository of SDK libraries that can be used in your app, without paying big licensing fees. And the icing on the cake is that it lowers barriers to entry into the mobile app development market.
Customization options
Android, being an open-source platform, offers potentialities for different customizations. If we compare, Android apps and its features can be more diverse than iOS and different operating systems. Customizations let your business be on the corresponding side that of the prevailing market trends which are remarkably beneficial for the growth of your marketing.
Powerful marketing tool
Mobile users are spending nearly 77% of their day and 90% of their free time on their favorite Android apps, so there is no better place to publicize your app. People depend on apps for reasons varying from research to reading reviews about brands, comparing prices, finding directions, making purchases, and varied other purposes. So having an android app makes sense.
High ROI with lower costs
The principal advantage of Android app development is the easy availability of the Android SDK as android app developers use the material design from these SDKs to build interactive apps. The developers are only required to pay a one-time registration fee for application administration, ensuring low investment and the enterprise gains a higher return on investment.
Faster deployment & scalability
Business apps have an agile development cycle that lasts for about a few hours. When talking about Scalability and Versatility, Android apps integrate with the entire Android ecosystem, including smartphones, tablets, wearables, and Android TV. One of the significant Android app benefits is that it makes Android Apps compatible with emerging technologies like IoT, and AR/ VR. Moreover, the versatility of the Android app platform allows mobile app development companies to build dynamic mobile applications that serve multiple purposes.
Final words:
To conclude, all you need is an android application for your business that has clean coding, excellent interface, and actionable analytics to highlight among the top. We already studied numerous advantages of android app development, also it helps businesses to address a higher range of audiences, and gain immense popularity. If you want a result-oriented android application that matches your business processes, hire us. We are a prominent Android application development company that has already built more than 350+ Android applications. Our mobile app developers understand the trends of the market, along with the requisites of the users. Android applications cost you nothing much but could give stupendous returns. Avail the business-friendly android app development services from an experienced IT firm like us. Know your audience, grab their attention, and flourish your business and sales. HURRY UP!